Writing /usr/www/users/ldt/newshop2/dokuwiki/data/meta/en/s88-clockmaster.meta failed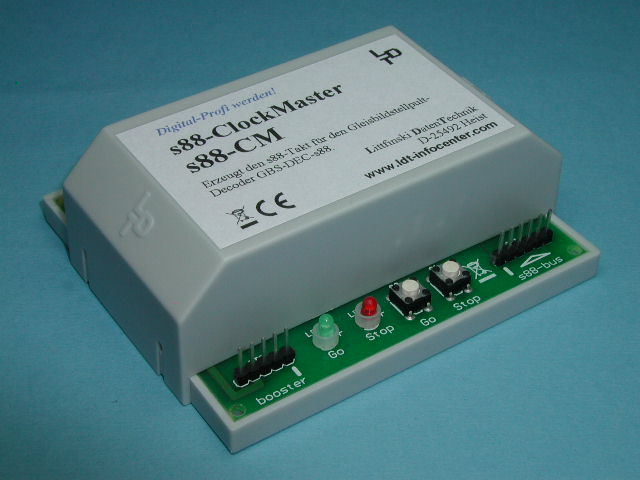 The Switchboard Light-Decoder GBS-DEC-s88 is able to "monitor" the s88-Feedback Bus and can switch directly the lights at the display panel of the corresponding track sections according to incoming occupancy information. If as well turnout positions will be registered via the s88-Feedback Module, the turnout-symbols at the display panel will indicate the actual turnout position.

If the display panel will be operated without connection to a digital command station or without a PC with model railway software is a timing generator for the s88-feedback bus required. This feature will be provided by the s88-ClockMaster.

In total is it possible to operate 32 16-fold or 64 8-fold s88-Feedback Modules with one s88-ClockMaster.

The Service Module GBS-Service is required for all adjustments at the Switchboard Light-Decoder GBS-DEC-s88. The Service Module GBS-Service can be as well attached to the s88-ClockMaster for the adjustment of the quantity of the available s88-Feedback Modules.
You can purchase the 88-ClockMaster as tested

finished module in a case (-G)

. Suitable

assembly material

can be found under

Accessories

.

Each s88-ClockMaster will be supplied with a detailed operating–instruction. Those instructions can be found within the next section.

The finished module in a case comes with a 24 month warranty.
Sample-connections regarding this article can be found here: Sample-Connections s88-ClockMaster.
Sample-connections for all LDT-Components can be found here: Overview Sample-Connections.

Attention: Products can only be added to the Wish List, if you are registered as customer at the LDT WebShop or if you are initially registered by interest of our products.

Add to Wish List: s88-ClockMaster-G (Part-No.: 090023): s88-ClockMaster-G as a finished module in a case (59,90 €*).

* All prices incl. VAT, plus Shipping.

Subject to technical changes and errors.
© 2022 by LDT