Writing /usr/www/users/ldt/newshop2/dokuwiki/data/meta/en/wd-dec.meta failed
The WatchDog decoder WD-DEC is a Watchdog for your pc-supported digital model rail road. If the model railway software has lost the control about the layout, the WD-DEC will switch the tracks free of current via the connected boosters and all trains will be immediately stopped.
Non-controlled running trains and the subsequences will be a matter of the past.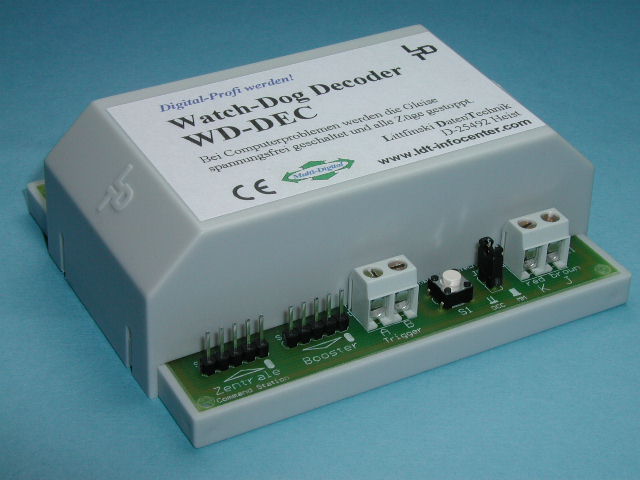 Function: The WatchDog decoder shall be connected between the command station and the first booster. In case the pc will not send every 5 seconds a normal switch command to the WatchDog decoder, the WD-DEC concludes that the model rail way is out of control of the pc. To prevent the non-controlled running of trains the WatchDog decoder disconnects the boosters from the central unit. The rails will be voltage-free and all trains will stop.

Therefore the WatchDog decoder is not only absolutely necessary for exibitional model rail roads. The

WD-DEC

has been installed for example to every computer connected to the exibition model rail road at

Miniatur Wunderland

at Hamburger Speicherstadt/Germany since November 2002.

By using a WD-DEC your model rail road can operate without continuous observation at your ease

.

The WD-DEC will not only monitor the pc, but also the command station at the same time. If the command station is not reacting to the commands of the computer the WatchDog decoder will go into action.

The WD-DEC accepts Märklin-Motorola- and DCC-commands. The required data format will be adjusted with the implementation of a connector bridge.

The central unit can be connected to the boosters directly via the 5-poles boosterbus (Märklin-Digital, Intellibox, TWIN-CENTER). Is there no 5-poles booster-bus available at the command station (e.g. Lenz Digital plus), the connection to the boosters will be done via the screw-clamps on the WD-DEC.
Each WatchDog-Decoder WD-DEC will be supplied with a detailed operating-/ assembly instruction. Those instructions can be found within the next section.

The

WatchDog-Decoder WD-DEC

is available as a

kit (-B)

. Suitable

assembly material

for the kit is available under

Accessories

.

Each WD-DEC comes with a booster cable (1 meter length) for the 5-poles booster-bus (Märklin-Digital, Intellibox, TWIN-CENTER) for the immediate assembly.
Sample-connections regarding this article can be found here: Sample-Connections WD-DEC.
Sample-connections for all LDT-Components can be found here: Overview Sample-Connections.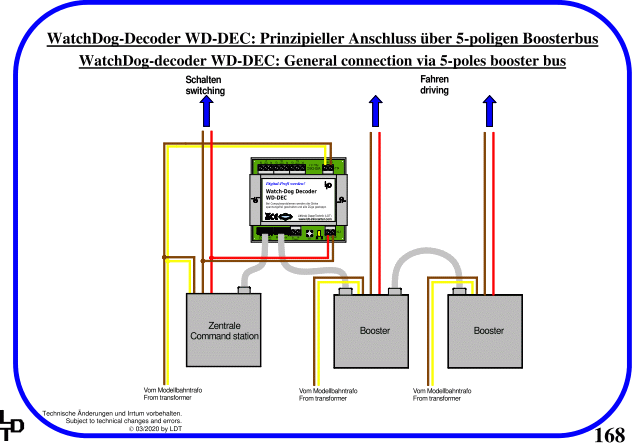 Attention: Products can only be added to the Wish List, if you are registered as customer at the LDT WebShop or if you are initially registered by interest of our products.

Add to Wish List: WD-DEC-B (Part-No.: 010011): WatchDog-Decoder as a kit (50,50 €*).

* All prices incl. VAT, plus Shipping.
(For Märklin-Motorola and DCC)
The below table indicates which model railroad software supports the WatchDog decoder WD-DEC:

Subject to technical changes and errors.
© 2022 by LDT