Writing /usr/www/users/ldt/newshop2/dokuwiki/data/meta/en/zbm.meta failed
Stop here by red:
The track section in front of a signal will be switched power free if the light signal-decoder switches the signal to "red".

4 track section in front of signals can be controlled by one ZBM.

With help of the following flow diagram you can choose which module for the train influence will be suitable for your system: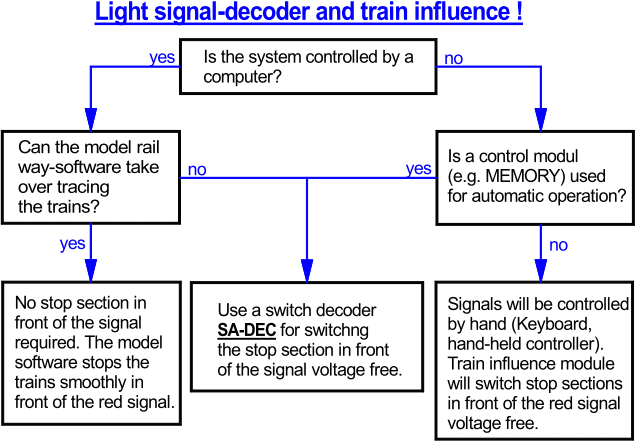 Each train influence module ZBM will be supplied with a detailed operating instruction. Those instructions can be found within the next section.

The finished module and the finished module in a case comes with 24 month warranty.

The ZBM is available as checked finished module in a case (-G).
Sample-connections regarding this article can be found here: Sample-Connections ZBM.
Sample-connections for all LDT-Components can be found here: Overview Sample-Connections.

Attention: Products can only be added to the Wish List, if you are registered as customer at the LDT WebShop or if you are initially registered by interest of our products.

Add to Wish List ZBM-G (Part-No.: 600013): 4fold Train influence module as a finished module in a case (43,30 €*).

* All prices incl. VAT, plus Shipping.
Subject to technical changes and errors.


© 2022 by LDT