Writing /usr/www/users/ldt/newshop2/dokuwiki/data/meta/en/keycom.meta failed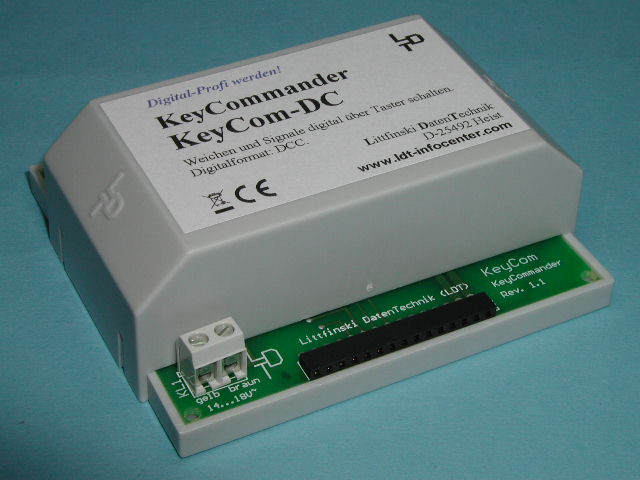 Analogue controlled layouts required previously a considerable large effort of wiring to switch turnouts and signals. For each turnout-drive it was required to install a minimum of two wires from the drive to the turnout control key.

Thanks to the KeyCommander (KeyCom) it is now possible to use the advantage of simple wiring of a digital layout on your analogue layout.

The KeyCommander translates a key-stroke into a digital switch command (data format Märklin-Motorola or DCC). Just two wires will transmit the information to a turnout decoder installed near the turnout which will switch the turnout as required.

The

key switch information

will come via the

16-fold standard feedback module

(

RM-88-N / RM-DEC-88

) to the

KeyCommander

. The

digital informatio

n created by the

KeyCommander (KeyCom)

will come via a

standard digital booster (DB-2)

to the turnout- and signal decoder. Therefore are

low-cost standard digital components in action

. Those components can be eventually used for a real digital layout in future.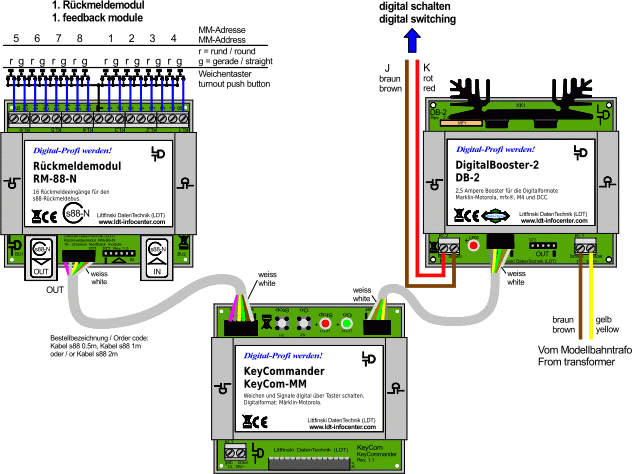 With the KeyCommander is it possible to switch as well drive ways by keystroke.
Previously was it possible to program up to 8 drive ways. After the function extension (novelty 2013) is now the programming of max. 16 drive ways possible.
For each turnout drive way can be 16 digital addresses transmitted for switching turnouts or signals. For the required adjustments is it possible to adapt a ServiceModule with LCD-display and control keys to the KeyCommander.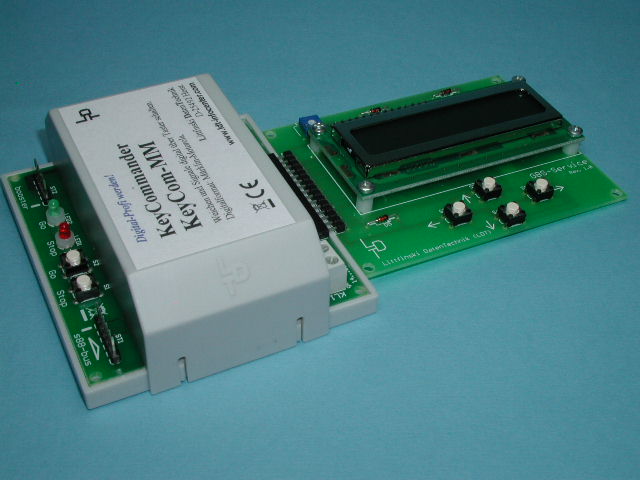 The finished module in a case comes with 24 month warranty.

Each KeyCommander will be supplied with a detailed operating-/respectively assembly instruction. Those instructions can be found within the next section.
Sample-connections regarding this not anymore available article can be found here:
Sample-Connections KeyCommander.
Sample-connections for all LDT-Components can be found here: Overview Sample-Connections.


Subject to technical changes and errors.
© 2022 by LDT Märklin and Motorola are registered trade marks.