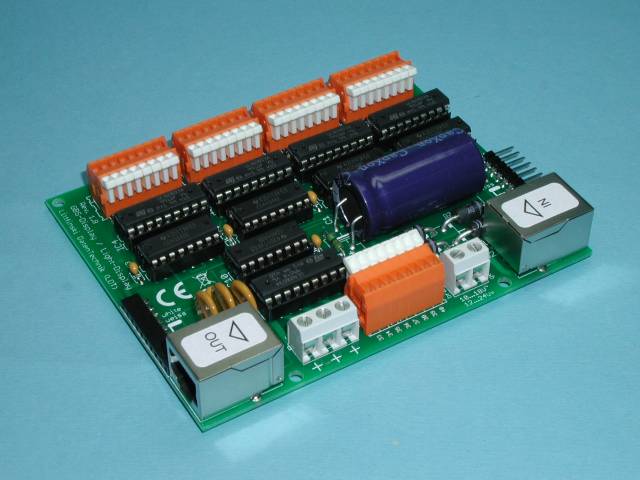 Light-Display-Modules contain 40 outputs with a maximum load of 0.5 Ampere each. They are particular suitable for switching light sources such as incandescent model railway lamps or light emitting diodes (LED).

Each Module will get the voltage from a model railway transformer or a switch mode power supply via the 2-poles supply-clamp. The supply voltage can be between 10 and 18 Volt AC or between 12 and 24 Volt DC.

Connect the Light-Display-Module to the Light-Interface (LI-LPT or LI-LAN) of the PC-Light-Control Light@Night or to the Light-DEC-Basis-Module of the Light Control Light-DEC via the 10-poles pin-plug-bar.

On the other side of the module is a 10-poles pin-plug-bar for the direct connection of the next Light-Display- or Light-Power-Module.

The Module do not need to be connected directly to each other. It is as well possible to connect the module via the "Kabel L@N" or via the screened and therefore interference protected "Kabel Patch" (from Light-Display Version 1.7 and Light-Power Version 1.2).

You can purchase the

Light-Display

-Module as a

kit (-B)

or as tested

finished module (-F

). Suitable

assembly material

can be found under

Accessories

.

Each Module will be supplied with a detailed operating-/respectively assembly-instruction. Those instructions can be found within the download-section.

The finished module comes with a 24 month warranty.
The PC-Light-Control Light@Night consists of one Interface (LI-LPT or LI-LAN) and of up to 7 Light-Modules. Therefore is it possible to equip max. 280 light outputs with various light effects and switch those individually.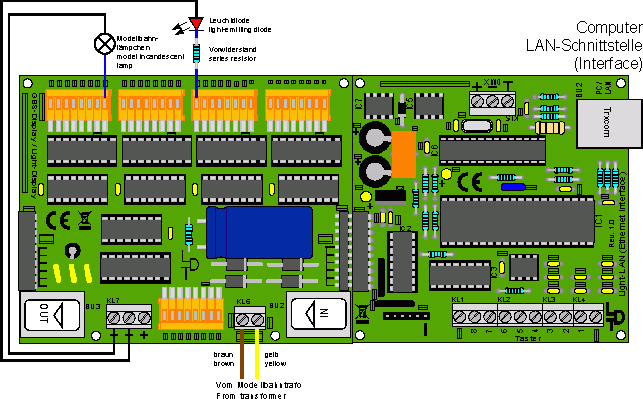 The universal Light-Control Light-DEC consist of one Light-DEC-Basis-Module and as minimum of one Light-Module. 44 light functions can be free assigned to max. 160 light outputs. This represents 4 Light-Display-Modules which are in action on one Light-DEC-Basis-Module.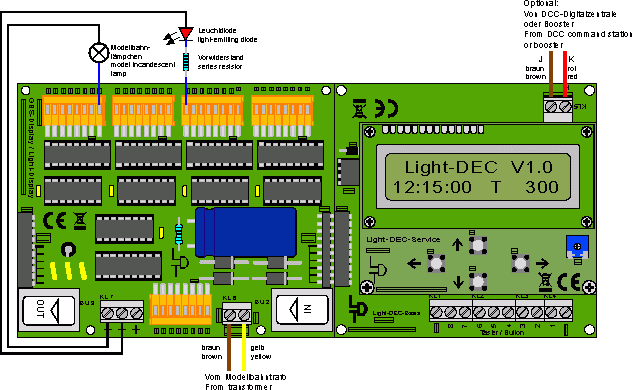 Sample-connections regarding this article can be found here: Sample-Connections Light@Night and Sample-Connections Light-DEC.
Sample-connections for all LDT-Components can be found here: Overview Sample-Connections.

Attention: Products can only be added to the Wish List, if you are registered as customer at the LDT WebShop or if you are initially registered by interest of our products.

Add to Wish List: Light-Display-B (Part-No.: 050031): Light-Display-Module as a kit (59,90 €*).
Add to Wish List: Light-Display-F (Part-No.: 050032): Light-Display -Module as a finished module (79,90 €*).

* All prices incl. VAT, plus Shipping.

Subject to technical changes and errors.
© 2016 by LDT